While many are enjoying a festive time of celebration through the winter, for some living alone, this time of year can heighten feelings of loneliness. As darker nights draw in, we can feel less inclined to go out, but staying in can leave us feeling isolated.  With more than 4 million people in the UK living alone, many of us will be thinking about isolated family we wish lived a little nearer this winter and wondering what we could do to help.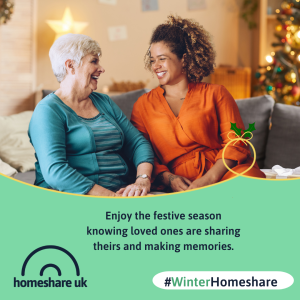 Homeshare UK are a trusted national charity seeking to reduce social isolation by matching local people who are currently living alone with someone looking for affordable housing in their area to build companionship with mutual benefit.  This winter, Homeshare UK are encouraging those facing these challenges to find out more about Homeshare schemes in their area through our #WinterHomeshare drive.  Let us help you find a trusted Homeshare companion to build memories with and keep the dark nights feeling a little brighter this winter.
What does 'Homeshare' mean for the householder?
Homeshare appeals typically (but not exclusively) to an older person living in their own home with a room to spare looking to be carefully matched with a younger person who will provide an agreed amount of support in exchange for good quality affordable accommodation.
The range of support provided, along with the key motivators for involvement might include help with daily living tasks such as: cleaning, shopping, gardening, overnight security and companionship.
Participants pay fees to the Homeshare UK provider to support the matching process and ongoing support; these fees are significantly lower than the cost of other housing or at-home support options in the local area.
All Homeshare UK providers conduct robust safeguarding checks, carefully match participants and provide ongoing support and monitoring offering peace of mind.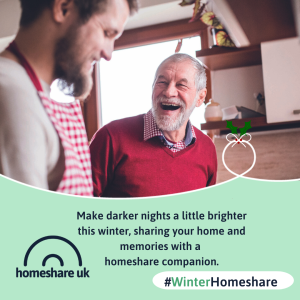 For many, the Homeshare solution enables them to remain in the home and community they love and offers family reassurance that their relatives have secure accommodation and companionship.
"It has been life changing having Patricia living here especially in the dark winter evenings. It really has made a positive change in my life having someone so kind and friendly around and knowing that I am not alone." Householder sharing through Homeshare Living
What does 'Homeshare look like for the homesharer?
With house prices and cost of living at an all-time high, finding affordable accommodation in a community where we would like to live can feel far beyond reach.  Homeshare connects those looking for affordable accommodation with those wanting to share their homes.
In exchange for low-cost good quality accommodation, the homesharer agrees to live sociably in the householder's home and provide around 10 hours of support per week.
The type of support offered is agreed between the householder and homesharer.
Homesharers do not provide any personal care to the householder, but Homeshare can sit alongside domiciliary carers and other formal social care support services.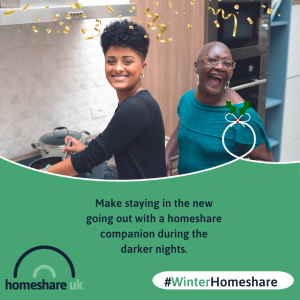 Homeshare providers conduct property checks so homesharers can feel reassured they are only being offered accommodation in quality settings where they will build companionship with the householder.
"To be honest, it's like a dream come true. Living in a lovely home with a lovely person and within my limited budget. Being of help to someone is also a really important part of it for me." Tomi, Film Studies Masters student from Slovenia sharing via Homeshare Oxfordshire
Finding Out More About Homeshare UK
There are 25 Homeshare UK network members delivering programmes across the UK.
If you think Homeshare is right for you, you can check if there is a provider in your local area by going to our find a Homeshare provider map. Or you can call our Homeshare UK team on 0151 227 3499 or email contact@homeshareuk.org