Here are some case studies from real Homeshare matches who are happy to share their experiences and stories. Thank you to our Network members and their participants for sharing these with us.
If you are interested in Homesharing, find a local Homeshare provider and make enquiries.
We're an unrelated multi-generation household, and it's bringing out the best in all of us
Sheila lives in Cheltenham and Shares her home with Emma and her two grown up daughters
Sheila is 79, Emma is 48, Georgina is 20 and Emily is 17
Living in Spain, Emma and her girls wanted to return to the UK to go to university and work. Georgina came over initially and not keen on the idea of halls found a Homeshare placement with Homeshare Gloucestershire. Then Emma and Emily came over. When Sheila was looking for a homesharer she was more than happy to have them all move in together and it's working out so well as there is rarely a time when there's not someone in the house.
Sheila says: I was on my own for five months and I hated it. In the night, if I ever fell over there was nobody there, I was frightened. The neighbors have been lovely, but they can't always be here. It would have been a nightmare without my Sharers.
'Go for it! I recommend it every time! It has given me a new lease of life. Someone cares about me for a change and that's nice.'
Emma Says 'It's a good, affordable way to live but also you're giving company to an older person, so you're never coming home to an empty house. You gain a lot sitting and chatting to other people, you're not on your own, you're not lonely and, if someone else is lonely, you can both help each other out' 
Alan and Ezra
A Homeshare Oxford match brings together Ezra, working in research at the Physics Department of Oxford University and Alan, a retired University librarian.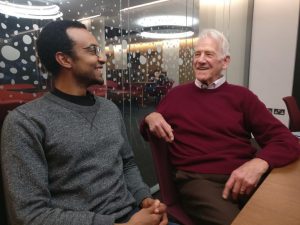 'There have been a number of highlights, making it hard to single out any one', says Alan, 'but I must mention the surprise 85th birthday party that Ezra threw for me. I honestly had no idea that anything was afoot, only to return from coffee with a neighbour to find friends and family from all corners of the country gathered in my garden. A wonderful barbecue and a truly memorable afternoon. An example of Ezra's astonishing kindness and thoughtfulness. I'm also very grateful for the introduction to the miracles of the mobile phone', says Alan.  'With encouragement and guidance from Ezra,   I use the phone increasingly for the basics, and photographs. I also now use Whatsapp, which enables me to be in touch with my family more directly now.'
Until moving into the Homeshare with Alan, Ezra had a long commute at either end of the day.  No longer. 'I now have a couple of extra hours at the beginning and end of each day. My two hour commute has been replaced by a pleasant 15 minute cycle ride to work. What a difference!'
A love of music and scrabble: Margaret and Holly
Holly is Margaret's second Homesharer with Leeds Homeshare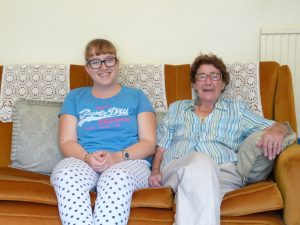 Margaret, 99, was sharing with Jon, her first Homeshare match for a year and liked having the comfort and reassurance of him being in the house especially overnight. Margaret benefitted from this arrangement so much that she asked us to find her another sharer when Jon moved on after his degree. We found Holly who is 21 and studying music at the Arts University. Margaret loves music too and Holly moved into Margaret's house in July 2019.
Holly says: 'It felt like an exciting experience because it's not like anything I've done before. We have vastly different lifestyles and it's quite fun how they crossover and I really enjoy the time that we spend together.
Margaret is very friendly and has lived a very interesting life so she's great to talk to! I guess the best thing is forming a friendship with someone who I wouldn't typically interact with in a student lifestyle. I like our scrabble evenings.'
And Margaret says: 'Holly is a very kind, caring young woman she sometimes treats me to a Walnut Whip. She is a vegan and likes cooking, I have tried vegan cake and I love it! I get on well with younger people and I didn't want to live on my own, I have a lot of life experiences and knowledge to give back to a sharer. Holly and I get on very well and have never argued, I even let her win at scrabble sometimes.'
Independence at home: Geoff and Sarah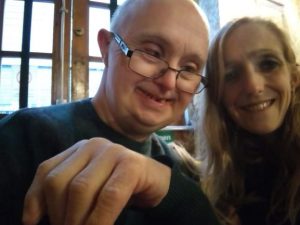 Geoff's sister contacted Supportmatch Homeshare Service after they lost their mother who was looking after him. Geoff has Down's Syndrome and even though he was independent, he was frightened of living alone after his mother passed away.
Supportmatch matched Geoff with a lovely Homesharer, Sarah, a music teacher who had previous Homeshare experience. They connected immediately at the first meeting; Sarah built a relationship of trust with Geoff from the start. She has been invaluable for Geoff's emotional wellbeing, and has a wonderful relationship with Geoff's sister whom she helps to deal with everybody involved with Geoff's health e.g. carers, counsellors, doctors and OT's.
After a few months of living together, social services became involved to offer Geoff extra support. The relationship between Supportmatch Homeshare, Sarah and social services has guaranteed Geoff full time support for more than four years, reducing the budget for Geoff's care, but most importantly enabling him to stay much longer at home, where he wants to be.