In our new bi monthly blog feature, we are meeting our Homeshare UK Network Members so you can get to know the people that deliver Homeshare and hear their stories. This month we are zipping over to Ireland to meet Lucie Cunningham of THE Homeshare….
THE Homeshare (Together Helping Each Other)
When did you start your Homeshare service?
THE HomeShare (Together Helping Each Other) was founded in July 2017, although our first few months was spent researching for our model which included travelling to London from Dublin to meet some existing Homeshare programmes. Big shout out to Share and Care and Novus Homeshare and of course Elizabeth Mills (Co-Founder of Homeshare International) who has never wavered in her unending support to us over the last 2 years. To you all, your insight, experience and advice was crucial for us in ensuring we upheld the high standard of other Homeshare programmes throughout the UK.
What areas do you cover?
We cover the whole of the Republic of Ireland, although currently the vast majority of our matches are in Dublin and surrounding areas.
How many matches are you supporting?
We are delighted to support 18 matches currently and we are in the process of matching a further 11, with new Householders registering their interest every week. At last count, we have supported 43 matches in total in the last 21 months.
Who is in your team?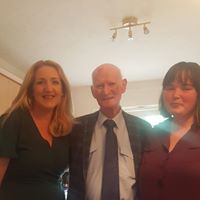 Our Founder, Lucie Cunningham is currently the only full-time member of the team. Lucie has 20 years experience in Nursing and the Healthcare and Homecare sectors both in the UK and Ireland which has been of huge benefit in her passion of scaling Homesharing in Ireland.
We have a part-time team member, Jenn Regan. Jenn also manages her own business, a Health and Safety Training company called GROW Training. Jenn has always been actively supportive of THE HomeShare since it's inception and we were delighted when she agreed to come on board as a part time team member.  Jenn's 20 years experience in the Homecare sector as well as her training experience is vital in our day to day operations. Jenn is particularly passionate about safeguarding and this focus is vital to our ongoing monitoring of each match. Jenn is currently putting together a Homeshare Induction training course which will include basic first aid, manual handling, safeguarding vulnerable adults and basic food hygiene.
Because THE HomeShare is a not for profit organisation, we are very lucky to have a number of volunteers which include Social Media and web design experts. We are currently actively building a Board of Trustees to ensure THE HomeShare's general governance and ethical running and scaling of the programme.
What motivated you to get involved in Homeshare?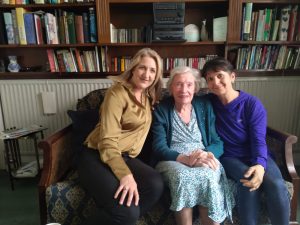 Whilst driving between quality assurance check meetings with her Homecare clients in 2015, Lucie happened upon a radio interview about Homesharing. It was a "light bulb" moment for Lucie. Knowing first hand the limitations of support available in Ireland for people who wished to remain living independently in their own homes and communities, Lucie immediately realised the benefits of Homesharing. Lucie has a passion for supporting older people and had first hand experience of the frustration family members experience because of the lack of support available for her own Dad prior to his death in 2011. He ended his days in long term care in a Nursing Home, whereas if Homesharing had been available at the time, his remaining years would have been more enjoyable and satisfactory had he had the option to remain living at home with the appropriate support.
Lucie (being a single parent with 3 young children) continued to work in the Homecare sector whilst researching the market and building funds to start her own programme in 2017.
What have been the key milestones/highlights of your Homeshare journey?
The first key milestone has to be our first Homeshare match! It was in October 2017. We are thrilled that this Householder is still a service user of ours. He is on his 2nd sharer, who has been living with him for 18 months now.
We are delighted to have had many other key milestones to date. Lucie, who describes herself as being like a "Dog with a bone" when it comes to promoting the model of Homesharing, has relentlessly and tirelessly marketed and lobbied for Homesharing to become a Household name and affordable option in Ireland. Her first meeting with Ireland's Government Minister with special responsibility for Older Persons was on 26th September 2017 (2 months after THE HomeShare was registered and also the 6th anniversary of the death of Lucie's father). Lucie met with the Minister on a few more occasions and finally, after only 17 months, the Homeshare model was to become a Government policy action plan. As with most Governments however, we are still waiting to see more action on this plan. Watch this space!
THE HomeShare has also successfully collaborated with many not for profit organisations and charities in Ireland who all advocate for our ageing population.
We are also very excited to have been approached by a production company early in 2018, Kite Entertainment. They heard about our Homeshare programme and it has since been successfully commissioned and funded, THE HomeShare are the Consultants on their upcoming 5 part TV series, due to air on National Television in September 2019. It is our hope that this will put Homesharing on the map not only in Ireland, but in the World!
What are your future plans for your Homeshare Organisation?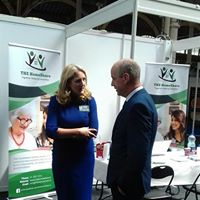 Our future plans for THE HomeShare is simple: Grow, so more people can remain living in their own homes and communities as well as enabling accommodation seekers to live closer to their place of work, enable people to go to university and college and even save money to buy their own property or pay off debts.
How will we do this? Our plan is to open offices in all the major cities in Ireland in the next 5 years. This will also offer local employment. Another win win for Homesharing programmes.
We are in the middle of plans to be part of the National discharge plan for patients as well as being an official referral organisation by healthcare professionals.
Below are some of the testimonials we have recently received by our Homeshare matches.
"I am now almost at the end of my 5th month sharing with George through THE Homeshare and I have to say it has been one of the most rewarding experiences. George is so easy going and a delight to care for as he is always so grateful for every little thing done for him. I'm a single guy, I am working full time and keep myself busy, however through this arrangement it has been the first time in my adult life that I've had to consider someone else and their needs. It has been a great learning experience in every sense.
It did take me a few weeks to adjust to the new living arrangements, but the crew from THE Homeshare, were and continue to be so supportive and are always just a phone call  away if needed.
Overall this has been and continues to be a very positive experience." Mark, Sharer.
"Don't take Shyni away from me, she is the best and cooks the best food!". Bridget, Householder
"Homesharing is a win win option as far as I'm concerned. My role as a Medical Social Worker is to enable patients to discharge from hospital with appropriate support. Homesharing seems to fill a lot of gaps for people". Medical Social Worker.