In response to today's Autumn statement, Ewan King, CEO of Shared Lives Plus says,
"We hear from Shared Lives carers that the cost of living is hitting them hard, not just for themselves, but for up to three other adults, as they open their own homes to support people with disabilities or health conditions, with no, or very little, increases to their weekly income. Our research into the Homeshare sector, informed by our Homeshare UK members, who match younger and older people together providing sociable, affordable accommodation, tells us that the cost of living and the housing crisis, is showing that Homeshare is needed more than ever. Homeshare helps people on low incomes cope with daily living costs, as well as promoting social connections between young and old. Sadly, this latest budget provides little hope that the situation will improve.
"While it is encouraging to hear the Chancellor praise the social care sector and offer additional investment over the next few years, we are concerned as to how this will be realised at grassroots level with council budgets overall remaining stretched.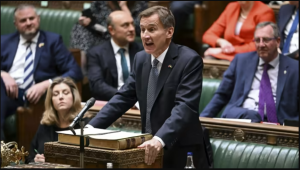 "From data gathered by Unison, we know councils up and down the country are predicting budget deficits of up to as much as £80m for 2023/2024. The Association of Directors of Adult Social Services this week released survey results stating 94% of Directors working in the social care sector felt they hadn't sufficient budgets to even make it through the winter.  Continuing to under resource the sector, as this budget forecasts, will prove costly for everyone who draws on social care, along with their family and friends.
"The social care sector has been battling a workforce crisis for some time. Our Invaluable pay campaign, which we launch this Autumn, aims to raise the profile of Shared Lives carers as a growing and vital part of council's adult social care services. They offer their lives and homes to support people with the best quality and safest form of social care available, providing a cost-effective solution for councils struggling to balance the books. Some Shared Lives carers haven't had pay rises for a decade due to missing out on standardised pay reviews, and it is high time they received fair recognition for the invaluable contribution they make. We are on a mission to support local services and senior leaders to invest and grow in this transformative social care service, but this can't be done when budgets are creaking under the pressure of ongoing lack of realistic investment.
"We welcome the Government's commitments today to invest an extra £2.7bn in social care over the next two years, but with Councils' resources already stretched to breaking point, we fear that much of this investment will not go where it is most needed unless the Government and local authorities instigate a more fundamental shift of resources and power away from institutional, stop-gap and reactive models of care, towards more community-based and preventative approaches to support like Shared Lives and Homeshare, that build on people's strengths and those of wider communities.
Our vision for social care and housing is simple: for everyone to be afforded a place we call home, with the people and things we love, in communities where we look out for one another, doing what matters to us. 
"There was much in the stalled government Adult Social Care White Paper that we supported – it talked about promoting independence, choice and enabling people to live well as part of a community and aimed to fund innovative approaches to support including Shared Lives and Homeshare, but we need now to push forward with this vision."
"We welcome the 10% increase in state pension and disability benefits, but it provides little relief for those with long term health conditions who rely on vital social care support benefits to allow them to live and take an active role in their community. It also doesn't alleviate the pressure on Shared Lives carers who carry the burden for living costs for people drawing on support, within the Shared Lives carers' home.  State aid needs to mirror the reality of the financial pressures facing councils and households coping with cost of living and energy price hikes, or we will simply not be able to afford basic living essentials this winter.
"We urge the government to look again at their budget and ringfence appropriate resource for adult social care and older and younger people that are facing cost of living and housing challenges, to make this ambition possible."